Here is my updated version Horizon T101 treadmill review (for the newest HTM1233-01 model).
Let's dive in together, and as always, you can trust me to give you the full scoop.
🍁 It's fall season again and Horizon Fitness announced a free shipping campaign and new upgrade options on their best-selling T-101 treadmill, now at $699 (for online purchases only). (Currently Out of stock)
❤️ See best price and check availability, here >>
Horizon Fitness top-selling product 2021/2022 continues to be the T101 treadmill. It's versatile for many different types of users and has FeatherLight folding, which makes it easy to store. With a lifetime frame and motor warrant, this is a solid offer from Horizon Fitness. It now includes 30 workout programs and Horizon Fitness has announced that they are dropping their best selling T101 treadmill by $300, bringing the price down to $699.
Now: you are probably here because you have decided that a treadmill is a good fitness solution for you. But is the T101 treadmill the right choice for you?
Jeff B. Brown & Team | Last Updated – October 6, 2022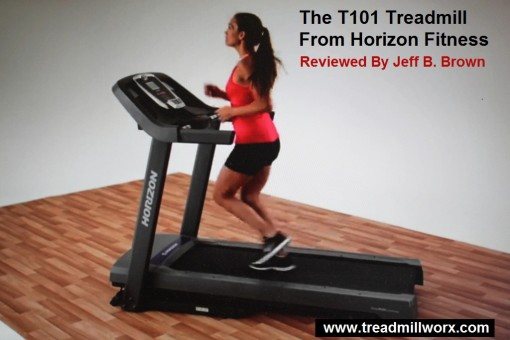 In this article I will explain the pros and cons of the Horizon T101 treadmill and give you a few tips to help you to get the most out of walking or running for fitness. I will also explain the specifications and tell you what actual users think of this particular model.
To glean the information I have read the many Horizon T101 treadmill reviews and have summarized it for you below.
My aim is to save you time and pull together all of the information you need into one succinct Horizon T101 review.
The Specifications
OK, first the specs.
What functionality does the T101 have?
Here is an overview:
The ability to fold for easy storage – here are the dimensions:
Unfolded: (L x W x H): 70″x 34″ x 55″
Folded: (L x W x H): 46″ x 34″ x 61″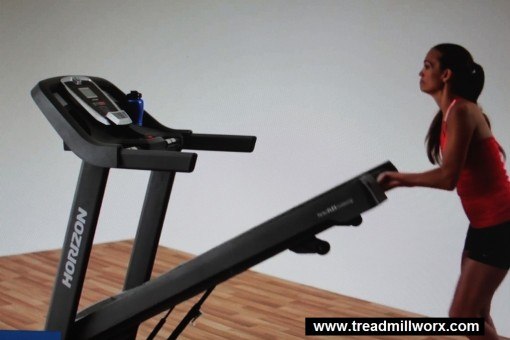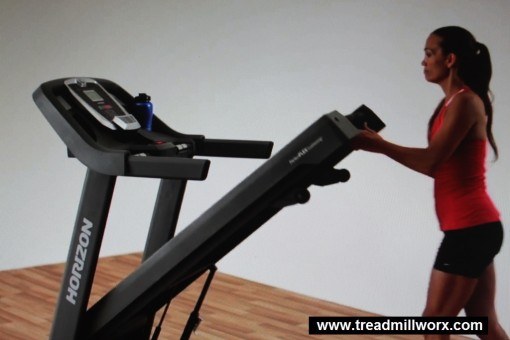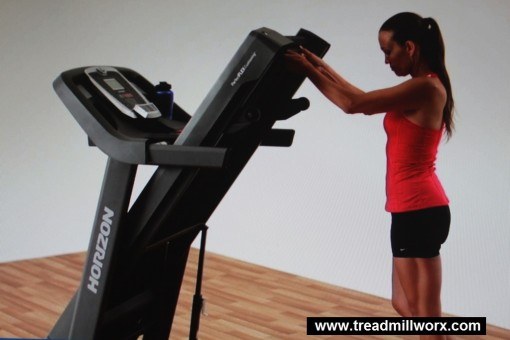 Specific details:
Variable speed between 0 to 10 mph
Variable incline grades of 0 to 10
20 x 55 inch running area
Maximum weight capacity of 300Ibs
Thirty console workout programs
Lifetime warranty (ftc) on the frame and motor
One-year warranty on parts and labor
Two-cup holders, speakers, reader rack and cooling fan built in
Safety features including side handrails and auto shut off
Does music motivate you while working out? It does for me! That's why I'm excited that the new Horizon Fitness T101 now come with Bluetooth connectivity. Now music can be streamed from your electronic devices and played right through the speakers. Now it's time to blast Eye of the Tiger… okay maybe not? ha ha. What's your favorite workout song?
Who Is the T101 Treadmill Suitable For?
This particular treadmill from Horizon Fitness is actually good for a range of users.
The 30 different programs mean that it works well for more or less anyone.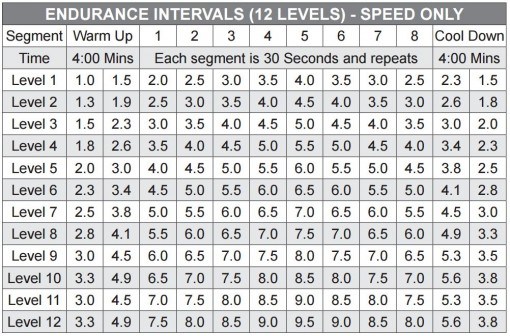 There are programs for people who are just getting started right up to people looking for an advanced workout.
However, it is not as good as the professional machines you get in the gym, so if you are a serious competitive athlete, this machine is probably not 100% right for you.
What Users of the Horizon T101 Say About the Treadmill
The T101, not to be confused with the T202 (compared here), treadmill has been available since 2013, so there are hundreds of Horizon T101 reviews to reference across over a dozen websites.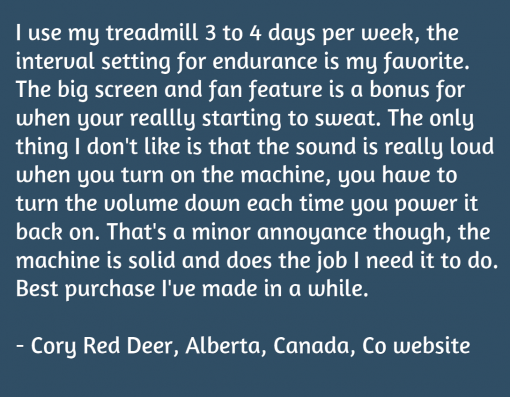 Actual users have written these reviews, so you can easily find out what this treadmill is actually like to use.
With this treadmill, there is no need to rely on the manufacturer's hype.
Here is a summary of what those reviews say:
Overall Verdict
I know time is short, so first the verdict, followed by the pros and cons for those who want information that is more detailed.
Overall users were very happy with this treadmill.
It functions well, is durable and pretty much does what people expected.
On average, this treadmill scores 4 out of 5 or 7.5 out of 10 across the various review websites.
The results of the user reviews were consistent with similar plus and minus points being raised across all of the review sites. Doctor Treadmill categorizes this treadmill as 'best buy', which is another reliable endorsement for this product.
I feel comfortable in saying that if you are looking for a high quality folding treadmill, the T101 is a good option and definitely one you should consider.
❤️‍🔥 Several of my readers has pointed out that Horizon is currently offering free shipping on every order, click here.
The T101 Treadmill is one of the all-time, best-selling treadmills for a reason. With advanced comfort features, get-on-and-go settings and one-step folding capability, you'd be hard-pressed to find a better value in a treadmill.
Here is a summary of the pluses and minuses highlighted in the user reviews I read:
The Pros of the Horizon T101
Quiet – the T101's responsive motor is exceptionally quiet.
Stable – the good build quality of the T101 means that this treadmill is stable in use. There is no wobble, which can be an issue with other treadmills, but you must set it up on a completely flat surface.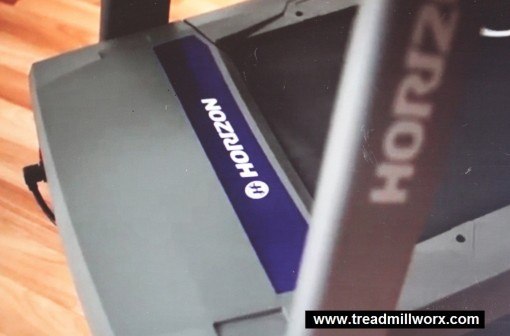 Easy to fold and store – this treadmill is easy to fold and has a soft unfold feature that means it folds out softly, so there is no risk of your getting in the way and dropping the treadmill onto your foot.
Flexible workout settings – the fact that the incline and speed can be adjusted provides a high level of adjustability. This is one reason this treadmill is suitable for practically any users. Everyone from gym rats to the elderly was able to find a setting that worked for them and allowed them to build up their fitness levels.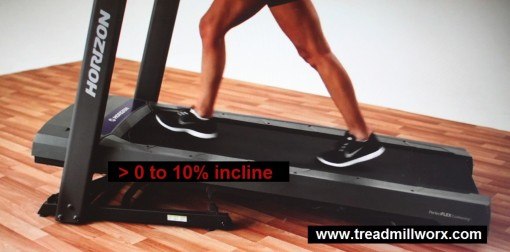 Workout stats – the T101 offers good workout stats helping to drive you on as well as monitor your progress. The stats collated include – distance, time, incline, speed, calories burnt and heart rate.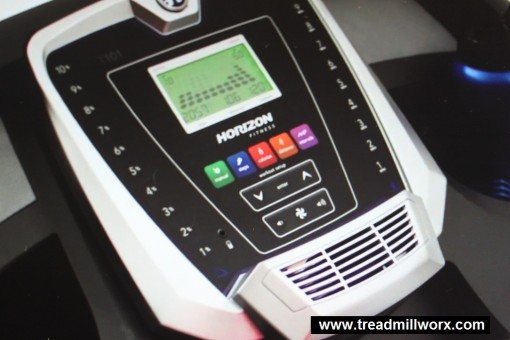 Variable response cushioning – jogging is heavy on the knees, but the variable response cushioning really helps to lessen the impact.
Built in fan – the built in fan helped many users to stay cooler enabling them to walk or run further and faster.
Built in speakers – we all find walking or running a bit tedious, so the good quality built in speakers were very welcome with many users mentioning them as a plus in their reviews.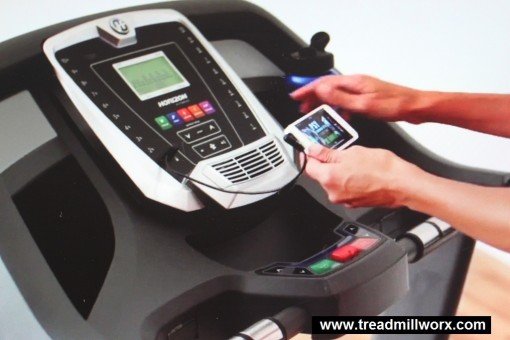 And the Cons…
No product is perfect and the T101 is no exception.
There were not many issues, but here is a summary:
Assembly – some users struggled with assembly. Only a handful mentioned this issue, but it is something to be aware of. If you do buy this treadmill, try to get someone to help you with assembly.

Gets noisier over time – some reviewers said that the motor gets nosier over time. However, this is an issue with other treadmills, so please do not let it put you off too much. Nobody said that the treadmill was unbearably noisy.
Horizon after care – a few people had damaged treadmills delivered or had small issues after prolonged use. Some people complained about the way Horizon dealt with these problems.
The firm usually offers replacements parts or a repair in the home as the first solution. Some people were not keen on this approach they would have preferred an immediate replacement. Unfortunately, sometimes it took a couple of weeks for the replacement parts to arrive or for the firm to send a repairer.
This is not unusual with modern appliances.
I have seen this issue raised as an issue for most firms and across a huge range of appliances, so this is not a deal breaker for me, but I felt you should be aware of this feedback from users.
Where Can I Buy the T101 Treadmill?
The vast majority of the reviewers bought their Horizon treadmill online, and this would be my recommendation too.
The best T101 treadmill deals seem to be available online and it easy to shop around.
Naturally, you need to make sure that you are ordering from a well-established supplier that offers good after care, full warranty and customer support.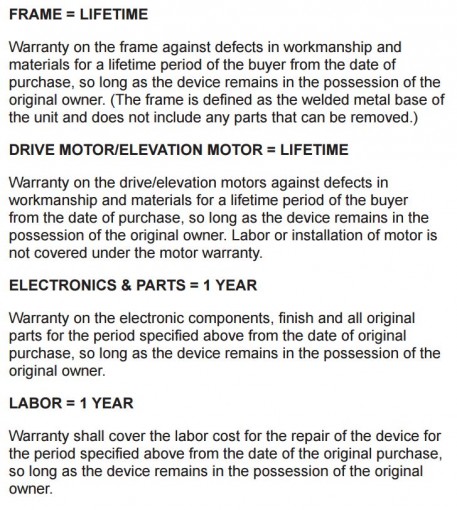 As you may know, Horizon Fitness and Vision Fitness are retail brands under the Johnson Health Tech (JHT) Company. Recently Matrix Fitness (previously a commercial brand) have also joined their retail family. This elite brand embodies the same high quality for the home that can currently be found in the largest, leading clubs and fitness facilities around the world. Stay tuned for more information on the Matrix Fitness line-up!
In Conclusion
As you can see the Horizon treadmill T101 is a good option. This is one of the best treadmills in its price class; it beats out many higher priced treadmills on the market.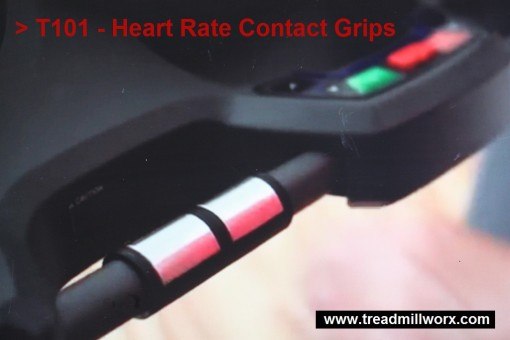 It is well built, fairly priced and easy to use. It comes with a lifetime warranty on the frame and motor, electronics and labor warranty if 1 year.
If you buy directly from Horizon Fitness (Johnson Fitness) you get a 30-day customer satisfaction guarantee. If you are not 100% happy with your new treadmill, you can return it at no extra cost.
To buy the horizon T101 at the best price and get $350 off, click the link below.
❤️ Get $300 off the Horizon T101 treadmill, here >>