If you would like to have a treadmill for your home, but do not have much space a folding running machine is almost certainly the right answer for you.
Here we explain the pros and cons of owning and using a folding treadmill, what you need to consider when buying one and some practical tips to help you to get more out of your fold up treadmill. As you know there are many benefits owning a treadmill (ref.). Just make sure that you buy a good one.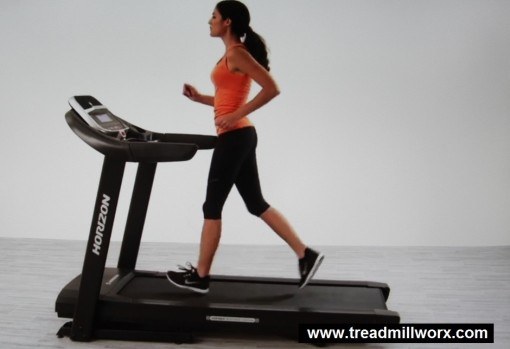 The Pros of Owning a Fold Away Treadmill
The biggest plus of owning a fold up running machine is that it does not take up much space.
This means that you can own a gym quality treadmill even if you live in a relatively small space.
The Cons of Foldaway Jogging Machines
To be honest we do not think there are any cons with fold up fitness machines.
Gone are the days when they were flimsy, clunky and practically useless. Modern materials and manufacturing processes now mean that folding fitness machines are every bit as good as their standalone counterparts are.
You just need to be careful to buy the right one.
The only thing you could say is a con is that you have to fold it out to use it. In reality, that is only an issue if you buy the wrong one.
Buy the right one and unfolding your treadmill and folding it back up when you have finished with it will be as easy as opening a door.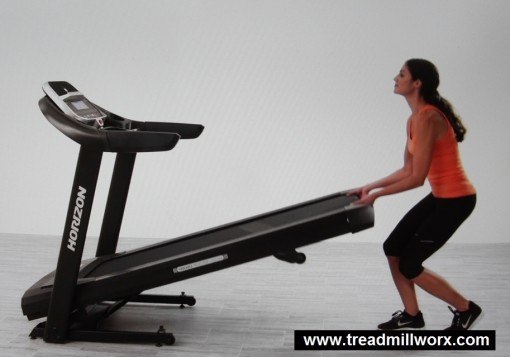 What to Look for When Buying Folding Treadmills
Key to buying the right folding fitness machines is knowing what to look for.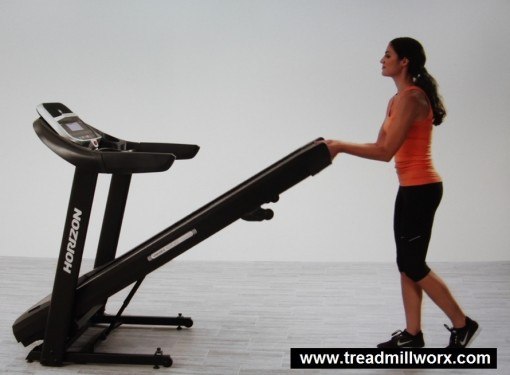 Here are the things you need to consider when buying a folding jogging machine:
How Much Space You Have Available
The first step when you buy any piece of fitness equipment is to work out where you are going to use it.
You need to work out how much space you have and buy accordingly.
Don't forget that there needs to be enough space at the front of the treadmill for you to bend over and lift it up when you fold it away.
Folded and Unfolded Dimensions
When buying find out both the folded and unfolded dimensions of the treadmill, and make sure that it will fit into the space that you have available.
If you plan to store it in a cupboard, think about the height as well as the width.
The Folding Treadmill Mechanism
Perhaps the most important consideration is how easy it is to fold out and back up again.
You need to look for a treadmill that incorporates hydraulics.
A good quality running machine is going to be heavy, so it is important to find one that has hydraulics incorporated that allow the unit to fold out softly, and easy to lift upright afterwards.
Weight
Good quality running machines are made with high quality materials.
That means that they can be heavy.
You need to check the weight of the machine and combine it with the weight of the heaviest person that will use it and make sure that the floor on which the machine will be placed can withstand that amount of weight.
Storage
If you are planning to push the folded machine into a cupboard or corner for storage how much the machine weighs is an important consideration.
If you are going to want to move the treadmill around try to look for a lightweight one or one with wheels. Make sure that the wheels are lockable when the treadmill is folded out and in use.
This will ensure that it is stable when in use.
Build Quality
You need to make sure that any treadmill you are considering buying is good quality.
The best fitness machines offer lifetime warranties and have good reviews. Our advice is not to be tempted by cheaper fold up machines.
It is far better to spend a little more and buy a good quality machine, which is backed up by a good guarantee.
Features
Buying a fold up machine does not mean that you need to settle for a basic jogger.
The best fold up treadmills feature everything standalone running machines do including speed and incline control, heart rate monitoring and a range of pre-programmed modes.
Using Your Fold Up Treadmill
When you get your treadmill home be careful to assemble it according to the instructions.
Doing so is the best way to make sure that your running machine works properly and that the parts wear evenly.
Take the time to fill out the warranty forms.
That way if you have any issues you can get them fixed under the guarantee.
Follow the manufacturer's instructions for maintaining your treadmill. Pay particular attention to keeping the folding mechanism oiled.
If your running machine includes wheels, make sure that you put the wheel brakes on before getting on or operating it.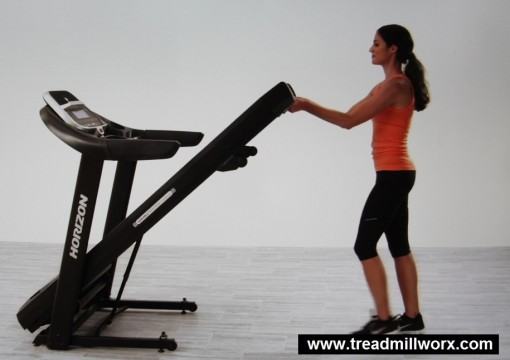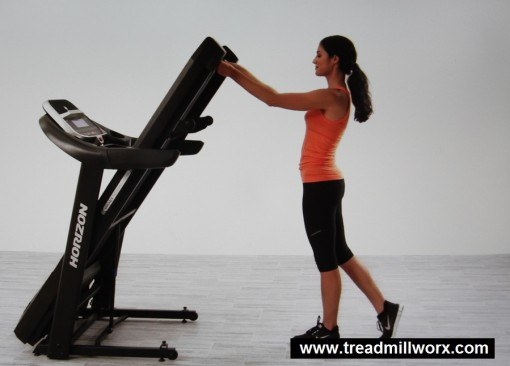 Where to Find Out More
To find out more and get further help with choosing a fold up treadmill just read some of our other folding treadmill reviews.
One of our favourite treadmills – the Horizon T101 is foldable.
Click here to read our full review of this very highly rated folding treadmill.